Galería Canalejas Food Hall will open in October and bring a unique range of gastronomic delights to the capital
14 restaurants of varying styles and nationalities, including a few new concepts from famous chefs, will make up the gastronomic experience at this new icon in Madrid
11 March 2021, Madrid. Galería Canalejas has revealed the highly anticipated list of food outlets that will form part of this exclusive space in the heart of Madrid. Across 4,000 m2, the Galería Canalejas Food Hall has been designed to offer a unique gastronomic experience in the city through 14 restaurants of varying styles and nationalities, including several concepts exclusively designed by famous national and international chefs for this new gastronomic icon in the capital.
Chef Julián Mármol, who has held a Michelin star since 2019 with his restaurant, Yugo The Bunker, has designed not one but two entirely new restaurant concepts that will be revealed at the Galería Canalejas Food Hall from October. The first of them, Monchis, represents a true crossroads between Japan and Mexico, where creativity and excellence in techniques and products take centre stage. This will be the first Mexican omakase bar (Japanese for "I leave it up to you") with a Japanese philosophy in Europe and only the second anywhere in the world.
Grilled food will be the central theme at this chef's second restaurant, The Eight, where he will display his unique signature touch by redefining such popular formats as the hamburger and the sandwich.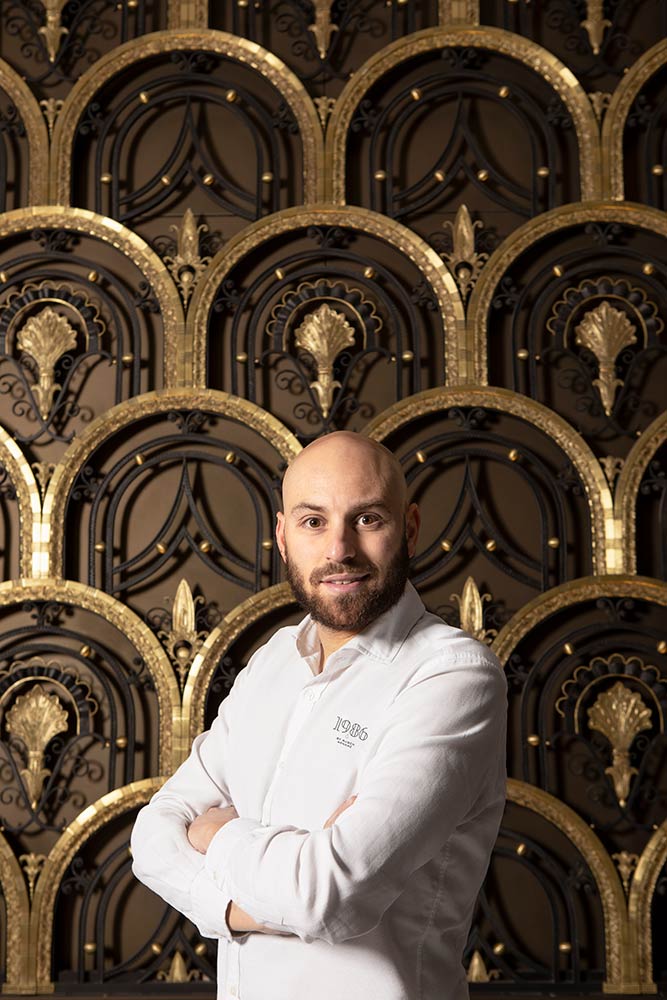 In turn, Rubén Arnanz, one of the youngest Spanish chefs to earn a Michelin star, will bring the essence of new Castilian cuisine to Madrid by opening 19.86 by Rubén Arnanz. This dynamic and cosmopolitan boutique restaurant will be where his haute cuisine recipes stimulate all the senses. It will also include an exclusive space for a small number of diners to enjoy show cooking by Rubén Arnanz.
MAD Gourmets is another of the entirely new concepts that have been created for the Galería Canalejas Food Hall. In more than 650 m2, it will include 20 different speciality spaces ranging from the typical Spanish tapas to the latest trends in international gastronomy. Particularly worth highlighting is the John Barrita concept and its famous creator, John Torres, the baker who made sourdough and fermentation an art form and who has become an essential part of the most important Michelin star restaurant tables in the world. Visitors to MAD Gourmets at Galería Canalejas will also be able to enjoy the constant entertainment suggestions that will coexist alongside the best gastronomy.

The successful concept created by Patricia Carbajosa at KaButoKaji is travelling to Madrid with the anticipated return to the capital of the famous chef, Andrés Madrigal, as gastronomic director. This perfect duo will open two restaurants in the Galería Canalejas Food Hall, where fusion becomes the culinary soul. On the one hand, a renewed KaButoKaji will enable the chef to invite diners on a fascinating journey through traditional Japanese gastronomy and its encounter with Mediterranean spirit. On the other hand, Klub Bar Kitchen will offer a new cocktail and dim-sum bar concept where diners will be able to enjoy a casual, relaxed atmosphere and some suggestive cocktails through which to discover Madrigal's most authentic side.

Spanish gastronomy is internationally famous and held in high regard for its rich and varied nature, characteristics that reflect the diversity of cultures that exist in the country. As a result, the Galería Canalejas Food Hall would not be the same without an extensive range of genuine national treasures, such as: Iberian meats, cold cuts, cheeses and the best offerings from Spanish wineries at D´Bellota; the wide variety of rice dishes and paellas from the iconic Madrid rice dish restaurant St James, synonymous with quality, dedication and outstanding service; and the modernised approach to the most authentic traditional gastronomy from Galicia at Garelos, originally from Betanzos. Neither could we forget one of the best examples of Spanish confectionery, El Goloso, which has been making traditional cakes and sweets on its premises in Tarancón since 1963 and is travelling beyond its home town in La Mancha so visitors to the Galería Canalejas Food Hall can try and take home with them the sweetest of delights from this traditional bakery.
The wildest side of Japanese gastronomy is brought to Madrid by Salvaje, where Japanese culinary tradition and mysticism combine flavours and techniques from every corner of the world. Venezuelan chef, Fermín Azkue, with an extensive career shaped at the best restaurants in Venezuela, Panama and major European capitals, will be in charge of fusing flavours and techniques from the most exotic parts of the planet in what is already being called "the Salvaje experience".
From Italy comes Davanti Ristorante, a tribute to Italian tradition in Madrid where fresh pasta fatta in casa will continue to be made for iconic dishes from Italian cuisine and a piccolo mercato will allow visitors to buy some of the best products from "the boot". Also from Italy is the Amorino ice-cream parlour with its offer of authentic Italian gelato made from 100% natural ingredients. The French company that repositioned the benchmark for oysters, Amélie, will also be present at the Galería Canalejas Food Hall in a space where enjoying the most award-winning oysters in the world will be accompanied by a rigorous selection of wines and champagnes. These 14 restaurants with widely diverse specialities will transform the Galería Canalejas Food Hall into a unique gastronomic experience in Madrid.
Officially opening its Food Hall in October, Galería Canalejas is taking a major step forward on a launch process that began last year with the opening of Hermès, the first boutique from among
its exclusive selection of brands. The rest of the over 40 fashion, perfume, luxury accessory and fine jewellery boutiques that will open at Galería Canalejas are scheduled to do so for spring
next year.
Juan Pablo García Denis, Managing Director of Galería Canalejas, said that "opening the Galería Canalejas Food Hall will bring a new gastronomy icon to Madrid and represents a major step
forward in our project. We are very proud to be creating a unique shopping and gastronomy department store in our country, on a par with the leading luxury shopping department stores in
the main capitals around the world, where our visitors will enjoy a global experience in fashion, luxury, gastronomy, culture and the history of the seven iconic buildings that house it, all of this
in the very heart of Madrid".
GALERÍA CANALEJAS FOOD HALL
Calle Alcalá 8-12, Madrid
info@galeriacanalejas.com
https://www.myluxepoint.com/wp-content/uploads/2021/03/8.jpg
710
1100
Maria G
https://www.myluxepoint.com/wp-content/uploads/2017/11/logo2v-NAVID.png
Maria G
2021-03-12 18:01:34
2021-03-12 18:01:34
Galería Canalejas Food Hall will open in October and bring a unique range of gastronomic delights to the capital